Dedicated to Improving the Quality of Life for Pediatric Oncology Patients
From One Warrior To Another, Nobody Fights Alone
Small Miracles Mission
Small Miracles is a 501(c)(3) charitable organization dedicated to positively enhancing the lives of pediatric oncology patients through gift programs and special experiences.
Jordyn Small experienced the hardships of cancer treatment
She and her team started Small Miracles to improve that experience for everyone else. Since 2019, Small Miracles has made great strides in completing its mission.
Small Miracles has raised over $80,000 for gifts so far to put smiles on the faces of patients from infants to teenagers.
Teenagers and Babies are Often Overlooked During Cancer Treatment
After three surgeries and fifteen months of chemotherapy treatment, Jordyn knows first-hand how cancer-treatment affects you.
During her time at the Children's Hospital of Philadelphia, Jordyn noticed that the teenagers and babies were often overlooked.
When gifts were handed out for various holidays, these kids received gifts that did not appeal to their age group. Shows playing in the hospital were often geared toward younger kids or toddlers. And while appreciated, it almost felt as if the babies and young adults were not validated for the pain that they endured each week.
By Christmas 2019, Jordyn sought out to provide gifts that were suitable for babies, toddlers, tweens and teens. Her goal was to create gifts that each age group could enjoy so that their time at the hospital could improve.
Posts From Our Blog
View the gallery of photos from our Spectacular Fundraising Event: A Night of Giving and…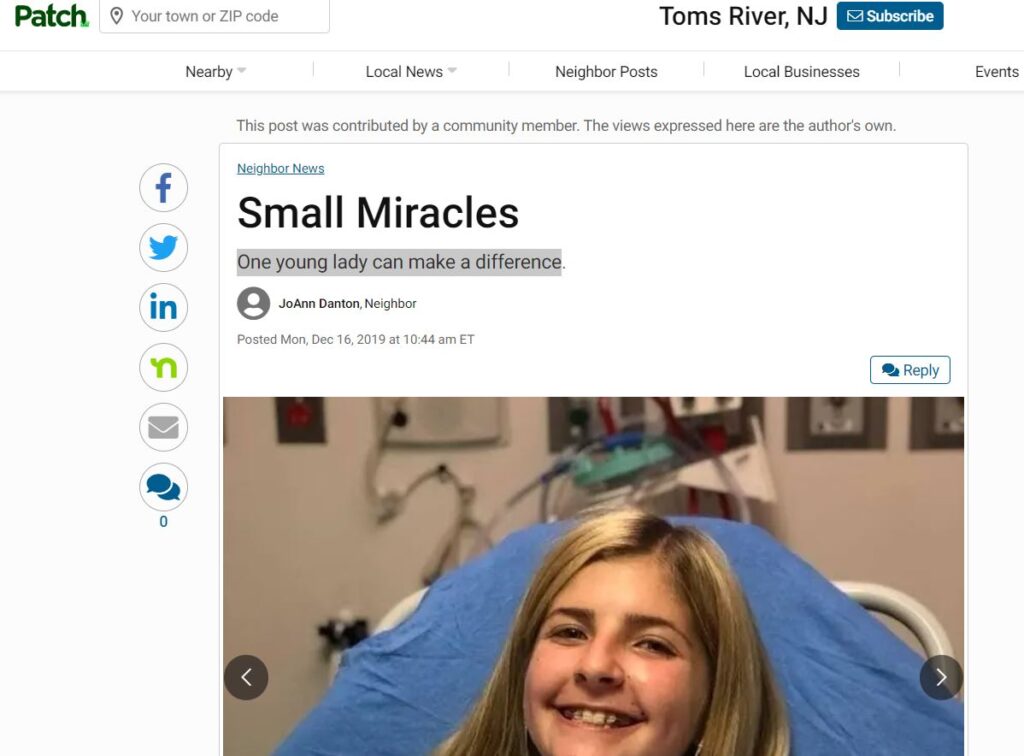 This story was original published on the patch.com website Toms River, NJ December 12, 2019…
This story was originally posted by the WOBM radio station. Shawn & Sue had a…