This story was original published on the patch.com website
Toms River, NJ December 12, 2019 – Jordyn Small, a sophomore at Donovan Catholic High School has embarked on a tremendous endeavor this Christmas. Her goal is to raise money to purchase gifts for teenagers receiving chemotherapy at Children's Hospital of Philadelphia.
Jordyn was diagnosed with an inoperable brain tumor at the age of 13. She had a biopsy that confirmed diagnosis and treatment for her tumor, and as a result, Jordyn needed to receive chemotherapy, and did so for the next 15 months.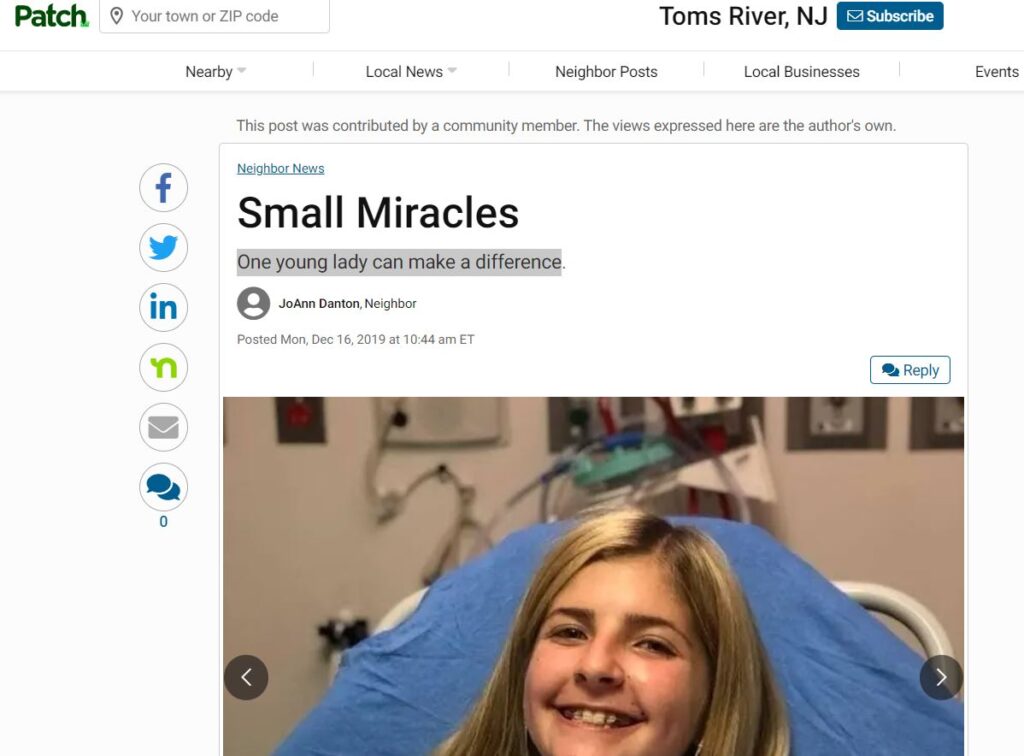 She traveled to CHOP weekly, usually arriving at the day hospital very early. She would get her vitals taken and then return to the waiting room for about an hour. After that, she would get her port accessed and have labs drawn to make sure her levels were okay to receive chemo that week.
This process took about an hour or more, so again she sat in the waiting room in anticipation of seeing the doctor. After that hour she would get moved to an examination room to meet with the oncologist and get assessed for treatment…this process, again, was about an hour or so.
After examination, chemo and meds were ordered and Jordyn would get moved to the day hospital where we would sit for about an hour, give or take, until medication orders were delivered from the hospital pharmacy. Almost 4 hours into the day (not including the drive into Philadelphia), Jordyn would finally receive her treatment, which usually consisted of a concoction of 6-8 different bags of anti-nausea meds, steroids, and chemo, and lasted, on average, for about 2 hours, before being given the okay to leave. This process happened every week.
It was during this process that Jordyn noticed that teenagers seemed to be the "forgotten group" at the hospital. While sitting in the waiting room for hours, games and television shows were geared toward the very young (Princess Sophia, Paw Patrol, etc). While in the treatment pods, there was a playroom for younger children that had a lot of toys, arts and crafts, and other "fun" things to do.
Yes, there was a teen room, but it was smaller and had only a single computer and game system. The younger kids were up and about, playing in the toy room, sometimes running down the hallways with chemo poles in tow. The teenagers, well they sat, hoods and hats on, headphones on, sleeping or getting ill. There wasn't a lot to do.
She spent many holidays there, and yes received donated gifts, which is completely generous, but many of those gifts were, again, geared to the younger child, which is why Jordyn is so passionate about her cause.
The generosity to give to children's hospitals is so amazing at the holidays. When purchasing gifts for these hospitals, it is so natural to buy baby dolls, cars, games, and toys that are geared to the young, and it is so amazing to see the love shown to these hospitals. However, we all know that it is much easier to buy for a younger child than it is to buy for a teen. So, this is where Jordyn comes in!
Jordyn is a member of the Students Against Destructive Decisions (S.A.D.D.) club at Donovan Catholic, and while discussing ways to help those in need during the Christmas season, she shared her journey at CHOP with club members, and asked if they would help her raise money to purchase items for teens who are currently in the same situation that she was in not so long ago.
Jordyn contacted the day hospital that she still visits every few months for her own appointments and spoke to her Child Life Specialist to get an approximate number of children in the Oncology unit on a given day. She was told that approximately 80 children visit the unit per day, many of which are teenagers, so her original goal was to raise $800 to purchase a $10 gift card for each child visiting on the day of her next appointment .
Through word-of -mouth and social media outlets, Jordyn quickly exceeded her goal. As of today, she has raised more than $4,000 to purchase approximately 150 $25 gift cards for Amazon & iTunes, so the teens could download games, music, movies and books to help pass the time while they are receiving their chemotherapy.
Jordyn will also be putting together gift bags that will not only contain the gifts cards, but will also include lip balm "our lips dry out from chemo" said Jordyn, "mints to dilute the metal taste in our mouths", and "fuzzy comfy warm socks because our feet get cold after chemo".
Another item that will be included in the bag is a rock with the word HOPE written on it , so they can hold onto it while going through the treatment. Jordyn's wish is that her gift bags will bring a little HOPE to fellow teens who are going through the same thing she went through not so long ago.